Brendan Wimberly

Head Coach, Forwards Coach

​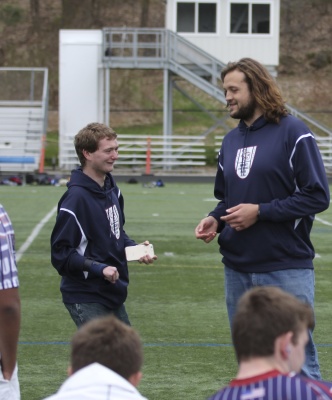 Coach Wimberly has been on board as a coach for LS Boys Rugby since 2012, head coach since 2013.  Coach Wimberly's rugby experience dates back to his sophomore year at Lincoln-Sudbury in the spring of 2004 under the tutelage of the late Iain Ryrie.  Wimberly played rugby at St. Michael's College in Colchester, Vt. from the fall of 2006 through the fall of 2009, and is currently a first-team player for the Boston Irish Wolfhounds in the American Rugby Premiership.  Some of Coach Wimberly's favorite rugby memories include his senior season in high school, when LS finished third in New England, winning the Massachusetts Division 2 state championship with LSRFC in the spring of 2016, and getting man of the match in a game between the Boston Irish Wolfhounds and New York Athletic Club, the defending national champions at the time.  In addition to coaching rugby at LS, Wimberly is also a special educator at the school as well as the ninth-grade boys basketball coach, and co-advisor of the Intersections Club, a student-led social justice initiative.  Wimberly's interests outside of rugby include music, literature, basketball, and traveling.
Associate Head Coach, Backs Coach
Coach Collins is a USA Rugby certified coach at the 200 level and has coached the Warriors with Brendan for the past two seasons. Along with Brendan and many others, Collins was taught the game of rugby by Iain Ryrie, a legendary New England rugby coaching fixture and an L-S housemaster with over a decade tenure. A core of students, parents, and Mr. Ryrie formed what would be LSRFC in 2004, Collins serving as club president throughout and also as captain in his senior year. After L-S, Collins attended St. Michael's College in Colchester, Vermont, where he earned a Bachelor's Degree in English and was a four-year starter in a competitive division II conference. St. Michael's Rugby Football Club won two separate plate championships during his time there and he served as captain from 2008-2010.

Mark Baglin is a freshman parent-coach on the LS team. He has played (mainly as a hooker, no.2) and coached rugby for a seriously long time, starting his career in England aged 11 through high school and then at the University of Birmingham, followed by senior club rugby with various teams in the UK. He came to the US in 1996 and has since played for a number of teams along the East Coast, most recently helping form and then play for Boston Maccabi RFC. He qualified as a coach in 2013. Some of his favorite on-field rugby memories include playing representative rugby (akin to 'all-state' in the US) at all levels in the UK, as well as, in a game at the age of 14, taking 22 scrums against the head (this is a good thing and not as dangerous as it sounds). Off-field memories are all centered on the camaraderie and fellowship of being a part of the rugby community. Mark works in the Biotech industry in Cambridge, MA. He looks forward to sharing the sheer joy of rugby with the LS boys. 

Max Finn
​Assistant Forwards Coach
Coach Finn, along with Coach Wimberly, Coach Collins, Coach Freund and many others, helped to establish the LSRFC, back in 2004. He started each year at second row along with Coach Wimberly while playing at LS under the instruction of Iain Ryrie. He still looks back on those times fondly, remembering the many experiences he had as positive and self-confidence building.
Coach Finn went on to play with the Red Ruggers of Fairfield University for a season then transferred to Johnson & Wales University in Providence, RI to pursue his dream of becoming a chef. He currently resides in Somerville, MA and works at Create-a-cook in Newton, MA, as well as his own personal chef/catering business.
After the stellar success of the 2016 season, he is looking for a memorable 2017 season.
Sam Freund

Coach Freund joined the LS Boys Rugby staff for the 2016 season. Freund is a founding member of the LS rugby program, along with coaches Wimberly, Collins and Finn, under former head coach Iain Ryrie. He went on to play for Ithaca College from 2006-2010, and began his coaching career during his senior year in Ithaca. Freund became a USA rugby match official in 2011, and continued his coaching career at Northeastern University with the men's rugby team for the 2013 and 2014 seasons. He worked with the developmental side, and helped develop many of the current first team players. After two years in California, Freund returned to Massachusetts, and has jumped right back into coaching. In addition to assisting with the LS Boys, he is also the head coach of the Brandeis University men's rugby club, and worked with coach Wimberly, as his assistant/backs coach for the Massachusetts High School All-Star Rugby team. He works full time at Brandeis University as their athletic equipment manager, and in his free time enjoys playing music, skiing, and both playing and watching sports. 

Jonny Rushfirth

Coach Rushfirth does not have a story worth telling.